Theatre creates space for rehearsals of non-violent actions
Wednesday, 23 January, 2019 - 14:15
On 5 January 2019 activists of the NGO "Tviy format" (Your format) in village Oleksievo-Druzhkivka (Donetzk region) conducted a peaceful action "Oleksievo-Druzhkivka is a safe village."
Inna Abbasova, Tviy Format NGO, explains the reasons of the action - "There is a main regional road that divides our village in two parts. Railway station is located in several meters from this road and according to traffic rules, it is argued that it`s insecure to have traffic light and speed bump there. But people are regularly hit by cars on this crossing. During last 3 weeks we had 3 deaths and one very complicated case – a person who was hit by car has fractured rips, broken collarboneand traumatic brain injury. People have to go for work and children go to school through this crossing. Every day many cars on very high speed are driving here and there are apartments nearby".
On 2 December 2018, activists of NGO "Tviy format" Anna Kolesnykova and Inna Abbasova performed forum-play about organization of similar public action during workshop organized by the Theatre for Dialogue NGO. According to the script, Anna was collecting signatures for petition and encouraged inhabitants of the village to participate in public protest and Inna performed an old lady who categorically refused to join peaceful protest action and reason why she is doing so.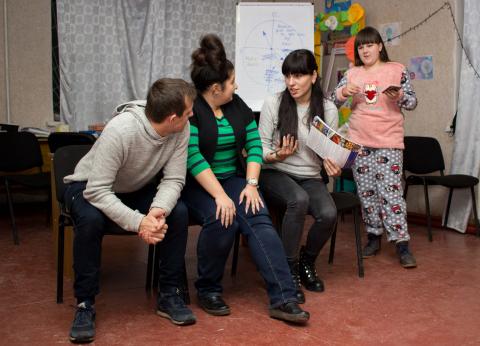 «According to Theater of  the Oppressed method, forum performance is based on anti-model approach (a desire of main character is not accomplished), it helps to pilot strategies which could help to understand people`s needs and develop effective non-violence practices to bring changes to the society. I `m convinced that rehearsal of the action during forum-theater performance has also contributed to the success of the campaign which mobilized village inhabitants, created media resonance and basis for effective dialogue with authorities" – Yana Salakhova, joker of the workshop and co-founder of NGO "Theater for Dialogue".
Public event was quite crowded: activists of the NGO "Tviy format" mobilized through social media and non-formal communication channels about 100 village inhabitants. Everybody could sign a petition which was later sent to the Road service of Donetsk region, Mayor of city Druzhkivka and Head of Donetsk regional state administration.
"First, second, third accident haven`t left us time for waiting. We had to protest immediately or don`t protest at all. There was no other way. People responded very quickly, because everyone cares about this problem. First of all, we want to receive answers from all authorities we sent official letters. If our demands won`t be satisfied, we will plan new actions to guarantee safety on this crossing" – Serhiy Dmitriev, activist of the NGO "Tviy format".
"I want to see Oleksievo-Druzhkivka prosperous again and I want that people in the village understand that everyone can change something. Many people think that only authorities are guilty and I have nothing to do with it. During action we told people that instead of staying home and complaining about their problems they should write to Head of village administration, inform about their problems in writing, not only orally. This issue stepped out of the shade and appeared on the regional agenda. Before it was discussed only during village council sessions. We wanted those who are directly responsible for safety on the roads – Road service of Donetsk region -  paid attention to this problem, - sais Anna Kolesnikova NGO "Tviy format".
On January 17 2019 representatives of the NGO "Tviy format" met Head of the traffic service in Donetsk region, who assured that within next 2 weeks sign of "pedestrian crossing"will appear on the problematic crossing on both sides of the road and after improving of weather condition "zebra" will be installed.
Negotiations about setting traffic light are continuing. More details in Facebook group of NGO "Tviy format": https://www.facebook.com/All.YOURFORMAT/
This workshop is implemented  by Theatre for Dialogue NGO within framework of the Civil Peace Service program: "Empowerment of civil society for non-violent conflict transformation ". The project is funded by K. Wustrow - Centre for Training and Networking in Nonviolent Action, within the framework of Civil Peace Service, a program of Germany's Federal Ministry for Economic Cooperation and Development (BMZ).